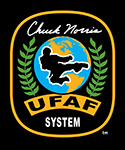 Membership in the United Fighting Arts Federation as a student of the Chuck Norris System is restricted to students currently training with a UFAF CNS Charter School or UFAF CNS Certified Instructor.If you would like to find an official school, click here.

Individual UFAF CNS Membership: $75/year OR $7.99/month

PLEASE NOTE: This form is for NEW MEMBERS ONLY. If you already have a UFAF membership through UFAF BJJ, UFAF KM, or the UFAF Affiliate program, please Log In and add CNS membership from the "Manage Your Membership" link.