History
The Chuck Norris System™ (CNS) is a Korean-based American hard style of karate. The style was founded by Mr. Chuck Norris, and was originally based on Mr. Norris' Tang Soo Do training in Korea while he was in the military. During his unprecedented competitive fighting career (undefeated world middleweight karate champion six years running), Mr. Norris began to evolve the style to make it more effective and well-rounded. He did this through committed study of other systems which he felt would complement his Tang Soo Do foundation. This evolution, along with his personal commitment to excellence, resulted in his phenomenal success. This openness continues today, as the Chuck Norris System continues to evolve to include aspects of other systems, or completely original aspects which make it more complete.

Having gone by several names since the early 70's, including the Chuck Norris System, the style was known as Chun Kuk Do from 1990 - 2015. In July 2015, at the annual UFAF International Training Conference (ITC) in Las Vegas, Mr. Norris and the board of directors announced to the membership that we would once again be able to return to using Mr. Norris' name and the Chuck Norris System was reborn.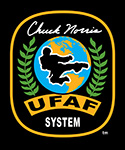 The Style
CNS is not an ad hoc collection of various techniques from different systems. Rather, it is a style with a deeply rooted traditional foundation of its own - now unique and different from its Tang Soo Do predecessor - to which various other elements that complement its core have been added. While CNS has fundamentals of it's UFAF sister disciplines of UFAF Krav Maga™ (UFAF KM) and UFAF Brazilian Jiu-Jitsu™ (UFAF BJJ), it's primary focus is on the art, efficiency, and effectivenss of striking and kicking from a stand-up position. And, as it's namesake would imply, there is much about various aspects of application to sport and self defense.


Structure, Rank and Testing
CNS is only taught through UFAF Chartered Schools or UFAF Certified Instructors, predominately throughout the US, but beginning to expand globally. You can find an official UFAF Charter School or Certified Instuctor using our School Finder search tool. Schools are divided into "Regions" for administrative and testing convenience. Each region has a Regional Chair that is responsible for overseeing the black belt rank testing, seminar coordination, administrative duties, and act as a liasion to the UFAF Office for school owners, regional inquiries, or issues.


The ranking system for progression in the style is:
- white, gold, purple, orange, blue, green, red, red w/ black stripe, black.
(The belts under black my also have white and/or black stripes depending on the school individual curriculum.)

Ranks of Black Belt are structured as follows:
- 1st degree black - can demonstrate an understanding and basic execution of the core of our style

- 2nd degree black - further integration/application of the core to extended ranges and power generation concepts with improved execution; able to pursue opening an official UFAF CNS Charter School

- 3rd degree black - continued personal development and inplementation of the core; ability to instruct and convey core principles to lead a student to 1st degree; demonstrate core skills with the bo

- 4th degree black - should be a pinnacle of personal physical presentation of the execution and integration of the core throughout the movements; execution of the style principles should happen naturally, "of no mind"

- 5th degree black - Master Rank - this rank should have a commanding ownership/understanding of the entirety of the core of the style; a "teacher of teachers", not only understands how to instruct the core material to the student, but also teach the instructors the methods and curriculum implementation

- 6th - 9th degree black - continued growth in the style, but with a more focused pursuit in a chosen area to facilitate evolution and expansion of the style knowledge base and growth of UFAF; active in curriculum development and special projects

- 10th degree black - Highest rank in the style, currently held by Mr. Chuck Norris, his brother, Mr. Aaron Norris, and Mr. Ken Gallacher.


Testing for student ranks is conducted at the school level. Testing for 1st degree black can be conducted "In-house" if the school meets the UFAF testing board requirements, or join ranks of 2nd degree and higher where tests are conducted two times per year in the spring and fall at a pre-selected regional location. Ranks of 5th degree master rank and higher are presented by Mr. Norris and/or the UFAF Board at the annual UFAF International Training Conference held in July in Las Vegas, NV. All ranks advancements have a minimum UFAF Membership time requirement, physical demonstatration, and/or addition training certification requirements for promotion.


Individual UFAF CNS Membership
Becoming a member of the United Fighting Arts Federation has many benefits, but those aside, you are joining an elite group of martial artists, training in one of the most inovative styles in the world today. The resources that members have access to with UFAF Membership is second to none. Thanks to Mr. Norris' vision, inovation, and reputation in the martial arts world, UFAF has the respect and support of some of the world's greatest martial artists.

Some other benefits of membership:
Chuck Norris System rank certification by UFAF and Grand Master Chuck Norris!
UFAF Affiliate School Program
Annual membership card and membership premium
Uniform patches signifying membership & style identity
Access to special events such as the annual UFAF member only International Training Conference (ITC) in Las Vegas
Discount on merchandise from the UFAF Store
Access to member only training videos
Educational opportunities, training seminars, curriculums, & certifications
Online community access
Instructor training
Business training for school owners
Professional Martial Artist Certification
Access to a network of phenomenal martial artists
Join UFAF as a Chuck Norris System Member today!
UFAF CNS School Charter
Certified UFAF Black Belts, 2nd degree or higher, can become an official UFAF CNS Charter School and start a career unlike any other, impacting the lives of children and adults, instilling the lessons and values of the martial arts in their community. With the support of the UFAF Business Management and Marketing Systems (BMMS), powered by MAIA, a UFAF Charter School can become a profitable and rewarding business.

Charter schools can range from an individual instructor teaching private lessons from their home to multi-location commercial facilities teaching hundreds of students... and UFAF can provide the guidance to be successful at whichever level you choose, or help you grow to the next.


Affiliate / Crossover Program
The UFAF Affiliate Crossover Program is designed for a martial artist that holds a minimum rank of 1st degree in a similiar striking based style that would like to transition to CNS and obtain rank. For more information about our Affiliate Programs, please visit the UFAF Affilate info page.